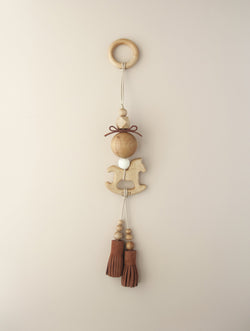 littleCHEW
Rocking Horse Nursery Wall Hanging
Playful and gorgeous wall decor is made from beech wood, genuine leather and BPA free food grade silicone. It's natural, non toxic and eco friendly.
Adding a touch of elegance, this rocking horse hanging sure will look beautiful in your nursery or child's room. They can be hung on a wall hook, shelf, dresser or even teepee.
WARNING! This is not a toy! It is for decor purposes only. Please ensure it is kept out of reach of babies or infants as it is a choking hazard.